Email Marketing
Because integration matters.
Bowling Rewards offers built-in email marketing campaign software which integrates directly into the gift and loyalty platform. We use a professional ESP to handle mail delivery as well as a professional third-party data verification company to ensure accuracy of email addresses collected during the enrollment process. The system automatically refreshes subscriber lists based on database query criteria. It even suspends loyalty accounts if a patron's email address becomes invalid and results in a hard bounce, requiring correction to help keep data fresh and accurate at all times.
Bowling Rewards' email marketing capabilities are delivered through two streams, Automated and Traditional, as outlined below. 
Automated Email Marketing
The Automated Emails module features a library of email templates the system sends to customers automatically after initial configuration. The template library includes thank-you notes the day after a visit, birthday notices, anniversary well wishes, holiday promotions, days since last visit and much more with default content that is fully customizable. Just turn ON a template and sit back and watch communication happen. You're done.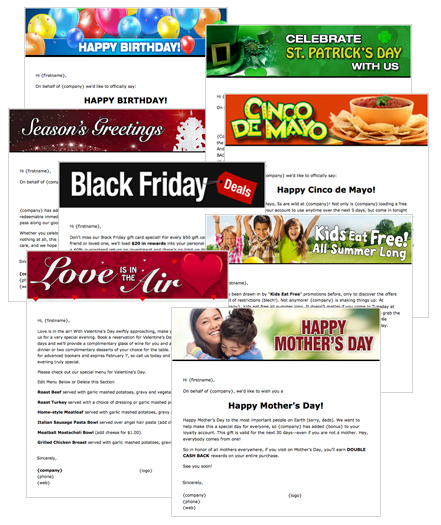 Additional Samples
Traditional Email Marketing
The Traditional Email Marketing module works just like any third-party email marketing platform you may have used before, but with a simpler interface. This module's library features dozens of stock campaigns and re-brandable campaign templates for manually creating and scheduling a traditional HTML email campaign. Bowling Rewards' Creative Services department can quickly customize and rebrand any template you need (typically with same-day turnaround).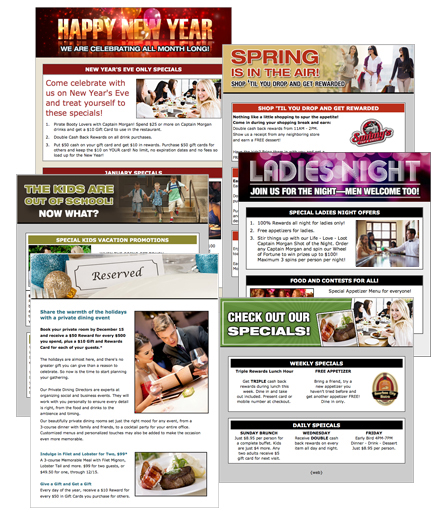 Additional Samples
Today's consumers are bombarded with advertising messages and will only pay attention to communications which are extremely specific to them. When you can tap into an email marketing module integrated with your loyalty program that understands your customer demographics, interests and spending histories, then you have something truly special that you can use to deliver personalized communications to each customer. You don't even need to send traditional email campaigns if you don't have the time or wherewithal. Just turn ON your automated email templates with a few mouse clicks (which we'll do for you upon set up), and you have a marketing engine that works for you all year long on auto-pilot.
Introductory Video
Learn More
Click here to learn about Bowling Rewards Mobile Marketing and contact us anytime to discuss your firm's gift and loyalty needs in more detail.